80-30"THE OUTFOXED FOX"


A fox, claiming himself to be chronically nervous, tries to get Tom & Jerry to give him food and shelter from a hound which has been chasing him. As the fox hides out under the table, in a drawer, and in the bathtub, the hound, with an arsenal of disguises (including a plumber and a vacuum cleaner salesman), enter T&J's home and tries but fails to nab his elusive quarry. It isn't long before the pushover fox's welcome is well worn out in Tom & Jerry humble abode, and the two immediately put a stop to it. The fox, in retaliation, grabs a box, stuffs it with half the food from their refrigerator, and leaves...and rejoins the hound, who is really his partner-in-crime! It turns out the two are con artists extraordinaire, and have been using the fox hunt routine as an act. But our ever efficient Tom & Jerry, ready with rod and reel, manages to outfox the fox and the hound by reeling the box of victuals back into their home!

TRIVIA & NOTES:

The fox says to Tom and Jerry, "You're right. A hot bath will relax my nerves." Obviously, Tom and Jerry talked to the fox off camera.
Lenny Weinrib voices the fox, in a manner which imitates the late Paul Lynde (1926-82). He provided similar vocalizations for the titular character in "Robin Ho-Ho."
"The Outfoxed Fox" borrows a bit from Baby Butch (1954).
The use of the antgonistic fox and hound in this segment reflects an abandoned, alternate concept of William Hanna and Joseph Barbera's Tom and Jerry back in 1940, as Metro-Goldwyn-Mayer was less than impressed with the usual run-of-the-mill cat-and-mouse formula. However, upon the release of the very first short, Puss Gets The Boot (when they were initially named Jasper and Jinx), the studio reconsidered with the short's huge audience response and ensuing Oscar nomination.
80-17

"TOWERING FIASCO"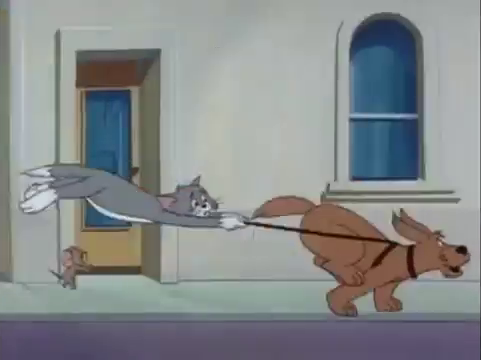 Tom and Jerry try professional dog walking, taking Boo-Boo, a wealthy lady's English sheep dog puppy for his afternoon outing. The huge, exuberant pup drags Tom and Jerry through one harrowing adventure after another, from chasing a cat to chasing a butterfly, finally swinging through the framework of a high-rise building under construction, his terrified "protectors" behind him. When the exhausted pair is wheel barrowed by Boo-Boo to his mistress, she tells them to walk him again right now! Boo-Boo runs off, chasing a small gnat, dragging Tom and Jerry behind him.
TRIVIA & NOTES:
The scenes where T&J pursue Boo-Boo through the construction site (and Tom falling into a vat of cement) are inspired by similar scenes in the very last original MGM Tom & Jerry short, Tot Watchers (1958).
The title "Towering Fiasco" is derived from Irwin Allen's 1974 20th Century-Fox/Warner Bros. disaster movie The Towering Inferno, starring Steve McQueen and Paul Newman.
"Towering Fiasco" originally ended with the lady owner inviting them to come again the next day, but Tom and Jerry react in horror and flee.
Speaking the only lines of dialogue throughout this entire cartoon is Jean VanderPyl, who voices Boo-Boo's female owner. She is best remembered for her role as Wilma Slaghoople Flintstone on The Flintstones (ABC, 1960-66) and its many sequels and incarnations.
Notice that Boo-Boo's mistress never once shows her face! This attribute is greatly inspired by many MGM T&J theatricals through the mid-1950s which occasionally featured humanoid characters (including maid Mammy Two-Shoes) whose faces were deliberately hidden.
80-37

"THE LOST DUCKLING"

A duckling tries to catch up with his flock, but he is too little to keep up with them; his wings "just won't cut the mustard." Tom and Jerry offer to help him. They try different methods to send the duckling south, everything from constructing a paper airplane, to riding a pelican, to building a catapult. These, and other, methods fail, and the three realize they will have to try faster (and more practical!) ways to get the duckling south. They try to hitchhike. It turns out they are hitchhiking with a robber, Blackie, en route to Miami, Florida, where he has "a big job planned there!" The police stop the car and arrest Blackie. (And inserted here is a message to kids, courtesy of the cop, never to hitch a ride with anybody!) Next, they jump on a railroad handcar. Tom is forced to push it faster as a train comes speeding towards them. They screech to a stop at the train station in Florida, where Tom is still making the motions of pushing the handles of the handcar, even after getting off of it! The three of them relax at the pool and, the flock lands at the pool to meet Tom and Jerry.
TRIVIA & NOTES:
The duckling (voiced by Don Messick) bears a striking resemblance to Little Quacker in the original MGM Tom & Jerry theatricals.
"The Lost Duckling" was probably inspired by Southbound Duckling (1955) and The Duck Doctor (1952), both of which involved a duckling trying to go south for the winter.
Animation of nervous-looking, grinning Tom nodding his head is reused from #80-01, "Stay Awake Or Else...".
Tom and Jerry employ the use of a huge cloister of balloons to help them and the duckling take to flight, just like they did with the baby wooly mammoth in Episode #80-07, "Mammoth Manhunt".
A distinct decline in quality of animation and artwork is evident in "The Lost Duckling." This unfortunate trait can also be spotted in Episode #80-26, "The Sorcerer's Apprentices", #80-34, "The Egg And Tom And Jerry", #80-39, "Son Of Gopher Broke", #80-42, "The Supercape Caper," and #80-44, "Jerry's Nephew."
ORIGINAL ANIMATION: