Aaron's New Tom & Jerry Information Site Turns 25 Today!
This web site launched on this day a full quarter-century ago, on Wednesday, March 12, 1997.
A Commercial Arts/Visual Communications major @ Isaac Delgado Community College and a novice HTML webpage writer, I was just becoming acclimated to The Internet, a then-up-and-coming medium in computers. I originally set out to create an info site for the original 1969-72 CBS run of Scooby-Doo Where Are You!, having accumulated enough minutae and data on the subject. Then I scrapped the idea, deducing that The Scoobster was a popular enough Hanna-Barbera character to have generated numerous fansites already. No, I decided to do something different for my website, a subject specially unique for any web presence.
Then I saw Randy Aragorn Simcox's Tom And Jerry Information Site, and I found my inspiration! Fueled by childhood memories of afterschool viewings of the 1975 Tom & Jerry TV cartoons from Hanna-Barbera, and having taken out a free account @ GeoCities.com (it would find four other servers since then; more on that later), got comfy inside a computer lab @ Delgado, took fingertips to keyboard, and brought to life what became my first contribution to the then-youthful World Wide Web, originally titled, "AHIII'S Info Page For Hanna-Barbera's The New Tom & Jerry (ABC, 1975-1977)" (sheesh, what a mouthful!). Not long after, this rather extensive moniker was trimmed a bit, and it was known as "The New Tom & Jerry (ABC, 1975-77) Information Site." After some addition of images and sound and video files, I then delved upon further inspiration from Randy's Tom And Jerry Information Site by removing the broadcast span on ABC from and adding my first name to the title of mine, and it became the webpage we all know and recognize today as Aaron's New Tom & Jerry Information Site!
The economy slump following the 9/11/01 attacks forced many servers to slash its bandwidth in half and, as a result, Aaron's New Tom & Jerry Information Site's 4-year stay at Yahoo!GeoCities ended on Monday, October 8, 2001, after a series of shutdowns for exceeding data transfer. Having spent a great deal of its 5th anniversary year of 2002 mainly shuffling around from one server to another: from Tripod to "0catch" (or so I believed!) to TopCities, where the story was just the same, it remained snug as a bug under a rug @ 50megs.com, its address for 15 years until late 2017, when circumstances beyond my control, forced me to change locations again, to its current URL at orgfree.com.
And on this very day which, interestingly, marks its 25th Anniversary on The Internet, I proffer a huge thanks to all of you who have and continued to for the past funtastic quarter-century support and keep up with the world's first and only known web site devoted solely to the preservation and perpetuation of Hanna-Barbera's made-for-television incarnation of 1975 Tom and Jerry. And double thanks for those fans who, like me, have and continue to remain faithful by setting your dials for a while and beginning with a grin when tuning in (sic!) to the show (or, rather, shorts) even longer than that: from afterschool showings on your local stations as kids to the Turner cartoon channels (and in its entirety on Canada's Teletoon) today, in spite of the enormous undertow of criticism it has seemed to endure these many years. And extra props to those of you who have maintained a following ever since the original run on ABC Funshine Saturday (unlike me!) with The Great Grape Ape! (And how fitting that, on this special occasion, I choose, as this week's Featured 1975 NT&J cartoon, the November 22, 1975 fan-fave "Hold That Pose", which I'd viewed during a telecast of Tom And Jerry on Cartoon Network in January of 1997 and truly greased the wheels for the foundation of this site!)

Aaron Handy III,


March 12, 2022.
---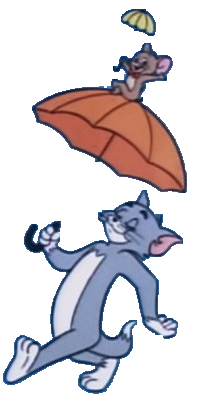 Back To AARON'S NEW TOM & JERRY INFORMATION SITE